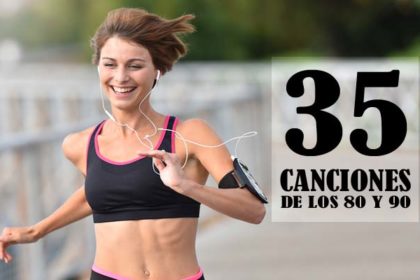 Motivarte escuchando canciones clásicas de los 80´ Y 90´puede ser una gran herramienta para esos días que necesitas un empujón anímico. La música nos da energía, recuerdos, motivación extra, y hasta nos puede ayudar a bloquear las sensaciones de cansancio.
Elegimos 35 canciones ideales que no deben faltar en tu playlist para salir a correr y que te harán volver a esos años donde la música tuvo su sello, disfrútalas.
Queen – A Kind of Magic
Survivor – Burning Heart
Culture Club – Karma Chameleon
Patrick Hernandez – Born to Be Alive
F.R. David – Words don't come easy
Supertramp – It's Raining Again
Cyndi Lauper – Girls Just Want To Have Fun
Wham! – Wake Me Up Before You Go-Go
Pet Shop Boys – Always on my mind
Donna Summer- Hot Stuff
Toto – Africa
Phil Collins – Another Day in Paradise
Toto – Rosanna
Kenny Rogers – The Gambler
Europe – The Final Countdown
Queen – Under Pressure
Bon Jovi – King of the mountain
Bon Jovi – Only lonely
The Boomtown Rats – Banana republic
ABBA – Hole in your soul
Lionel Richie – Tell me
Bon Jovi – The price of love
The Boomtown Rats – The elephants graveyard
A-HA – The sun always shines on TV
Bon Jovi – In and out of love
ACDC – You shook me all night long
Rick Astley – Never gonna give you up
U2 – With Or Without You
INXS – Never Tear Us Apart
Bryan Adams – Heaven
Guns N' Roses – November Rain
Cheap Trick – The flame
The Police – Every Breath You Take
Genesis – In Too Deep
Sting – Fragile
También te puede interesar ver:
¿SABES LOS KILÓMETROS QUE DEBERÍAS CORRER SEMANALMENTE SEGÚN TU OBJETIVO?