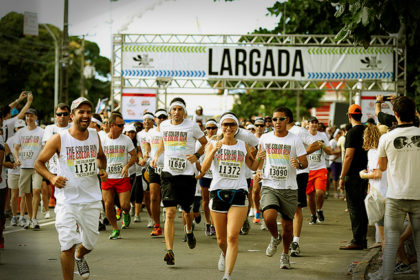 You've noticed that the people who go running even just a few minutes the first thing in the morning, are more efficient at work and are friendlier in general, than those who sleep in till late in the afternoon glued to the TV or their cell phone.
We live in a world where stress is more and more prevalent, and the reason is to live a full life with a great workload. What is the usual recipe used by stressed-out people to find relief? Well, the psychologist…
But there is a simpler and cheaper way to solve the stress problem that clears the mind and does not make you want to do anything. It's the opposite path, and difficult to start due to the change in routine. It's called simply giving yourself time within your way of life to relax and leave your cell phone and problems to the side, in order to dedicate yourself to doing sport which minimizes the negative effects of stress.
Running, for how easy it is to do, is a great tool to combat stress and minimize its effects. Additionally, running after being at rest, produces endorphins that causes pleasant sensations and feelings of well-being, distancing you from the anxiety of your problems and staying relaxed with the ability to better concentrate at work. And it's free! Unlike a good psychologist, who is very expensive…
What does stress cause?
The stress in your body produces cortisol, a catabolic hormone that degrades liver and muscle glycogen to glucose. It also degrades muscle for amino acids and fats for fatty acids. All this energy is accumulated in the form of fat in the body if you don't burn it quickly through exercise.
In conclusion, stressed people usually gain more weight with the accumulated fat and lose more muscle, in addition to damaging the immune system which is weakened.
.
How can stress affect a runner?
Runners also have to be careful. An example is when you are at the starting line of a race that you trained hard for and are eager to run. Your breathing probably increases and will be less deep. Your heart rate (HR) also increases, your muscles tighten, your brain is placed in a state of alert and your senses are intensified. Controlling a stressful situation like this can be very useful to increase your performance. An excess of stress (high FC and high blood pressure) will negatively influence your performance. Your coordination will be influenced by the high arousal of your nervous system and your muscles will be uncoupled between them creating the possibility of injury by improper running technique you'd have because of stress.
Therefore, do not exert yourself too much in activities where you are subjected to stress for any reason.
It relaxes your mind from everyday problems:
Before going to run try to free your mind, economic issues, work and love issues etc., so that you they do not influence you too much. Try to relax, think of the good things about your day and it will automatically improve your performance.
Food and stress:
These two themes are very associated. A good healthy diet is the way to lower stress, while consuming coffee or tea when you're in high levels of stress makes it worse as they provoke a sense of alertness in your body that will probably make you sleep poorly.
Also, if you are stressed, it is not recommended to take food that can cause hypoglycaemic states such as simple sugars or sweets, since they would worsen your situation of stress like the nicotine from the tobacco, since they stimulate your adrenal glands.